This morning I stepped out over the dew dampened grass luxuriating in the early sun and relishing the peace of the neighbourhood before the lawn-mowing leaf-blowing brigade began their Saturday labours, before the dogs began to bark and the next door pool began its irritating whine.  A garden is enchanting at that early hour of the morning when the sunshine is just beginning to gild petals and leaves and the remnants of the night's dew are still fresh.
My story this week is that of six roses which have begun their first flowering of the season.  The avalanche of aphids has been somewhat halted thanks to detergent-in-water spray which has been applied several times- and I learnt the hard way not to use too much detergent.  None of my roses are unusual or particularly different, but they seem to like our climate: for such elegant, classic blooms they are remarkably hardy.
One: Rosa 'Madame A Meilland'.  The much-loved 'Peace' rose, complete with small passenger. Look at those blushes at the edges of the petals.  She knows she's gorgeous! I've discovered that this rose, developed in France,  had different names in different European countries and was  given the name 'Peace' at the end of WW2.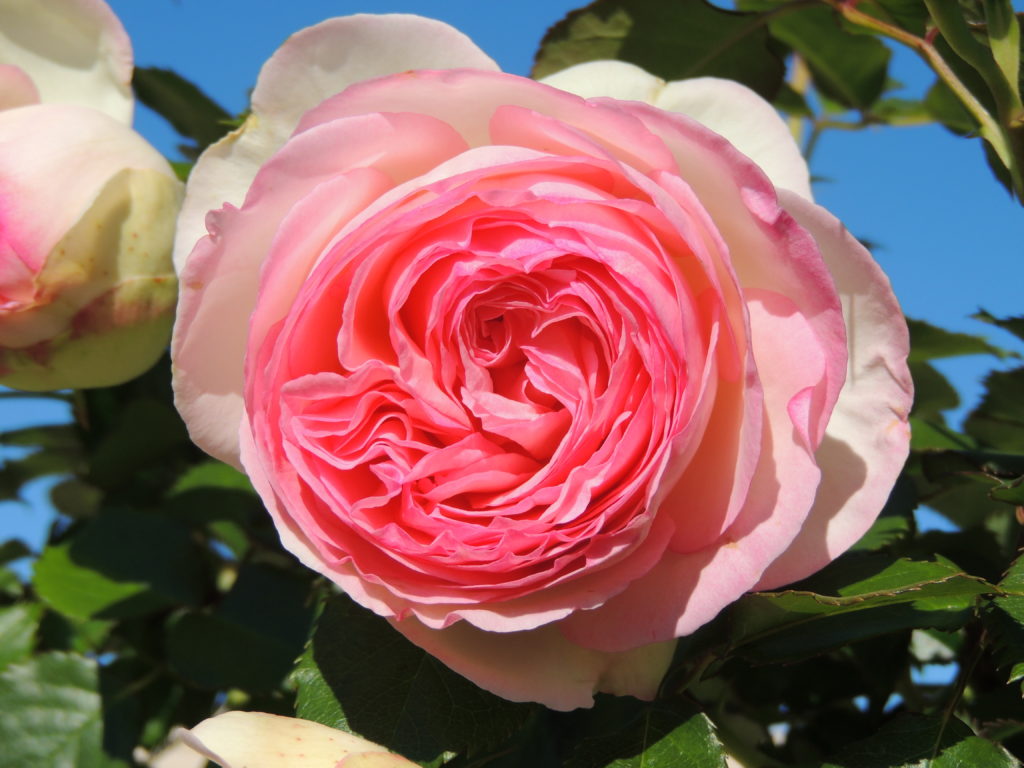 Two: Rosa 'Pierre de Ronsard' who has a habit of hanging his head, although he has nothing to be ashamed of. I was lucky to find this bolder flower.  Look at those petals: like the layers in a mille fueille cake!
Three: Rosa 'The Prince'.  I've not been able to capture the rich velvety colour of this rose as well as I would like but I think in real life it's almost the colour of a good Mudgee Shiraz!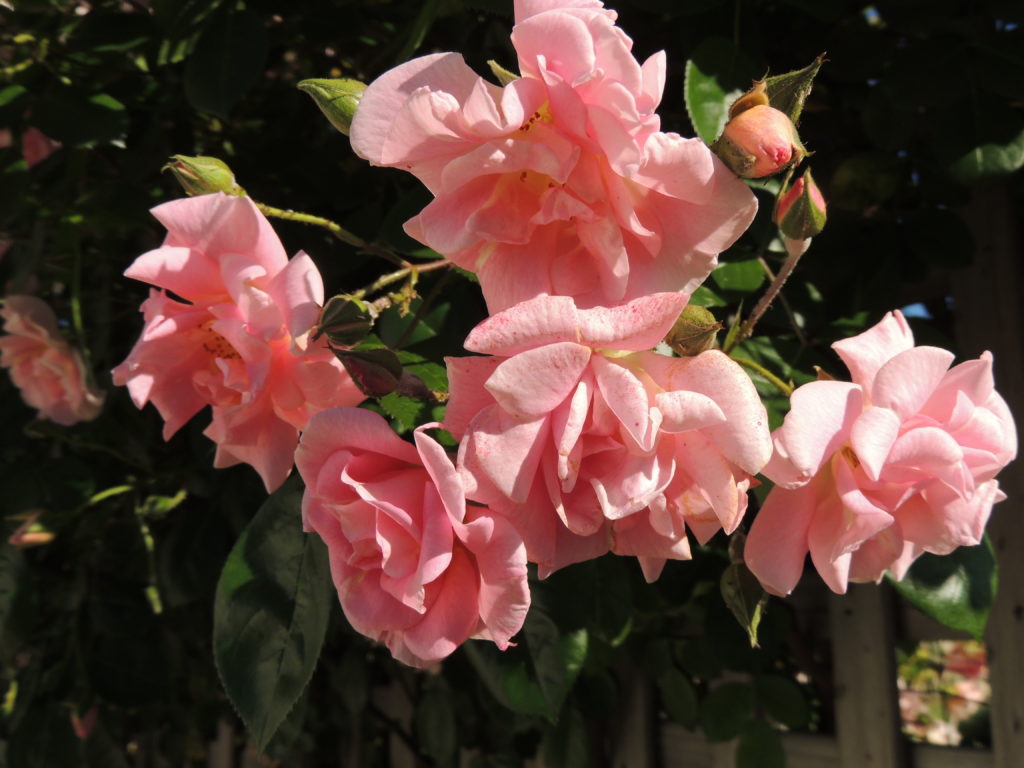 Four: Rosa 'Climbing Pinkie' which perhaps could be called 'Prolific Pinkie' hasn't quite got into its stride yet and has had a dreadful case of aphids to contend with.  It's quite irrepressible and will be covered with these blushing pink flowers before too long.
Five: Truly, I don't think this 'Calypso' rose is one for the purists, but it flowers happily all Summer- I have two in pots- and is almost disease and pest free.  Mine weren't affected by the recent aphid attack.  I like the way the petals change from this orangey-red to pink as they age.
Six: Last, but certainly not least, 'Julia's Rose', (slightly overblown),  a new addition to my garden: so new it hasn't actually been planted yet. Starting as a peachy-pink in bud, it fades to a pale caramel as it ages.  Such an arresting and unusual colour, I can't stop gazing upon it with great admiration.
Each day for the last week the maximum temperatures have been in excess of 26 degrees, and Summer is almost upon us, even though we'd like to have a lot more Spring- meaning a continuation of the rain we've had at quite regular intervals. Soon we'll be getting out the hoses, but in the meantime, there is much enjoyment to be had in the Spring garden.
As always, to see what other gardeners are doing, go to the Propagator's blog and enjoy gardens from all over the world.
Happy gardening everyone!