There is no doubt that Autumn is a wonderful season here in the Central Tablelands of New South Wales. The weather is benevolent: crisp mornings with the occasional sprinkling of frost, sunny days and an almost complete lack of wind. Beautiful weather for gardening and also for admiring the autumnal tones around the district.
I am joining in with the Six on Saturday crowd, a friendly and committed group of gardeners piloted by The Propagator. Other posts can be seen by linking to his blog here.
Many of the plants in the garden are beginning to wind down, but there's still beauty to be seen in faded colours and seed heads. Above, a garden view complete with green watering can, which is a sure sign that rain has been less plentiful than one would wish. The white Gauras have finished flowering but still display interest with their red stalks, and Asters add another touch of colour.
Two: There's a path in there! Salvias have grown to a large size especially as I didn't cut them back in January as I usually do. One of our recent projects was to cover the startlingly white pebbles with river stones. This necessitated Mr MG barrowing a tonne of them from the front of the house, an utterly exhausting but rewarding job. Below is a clearer view of the stones in the clothesline area.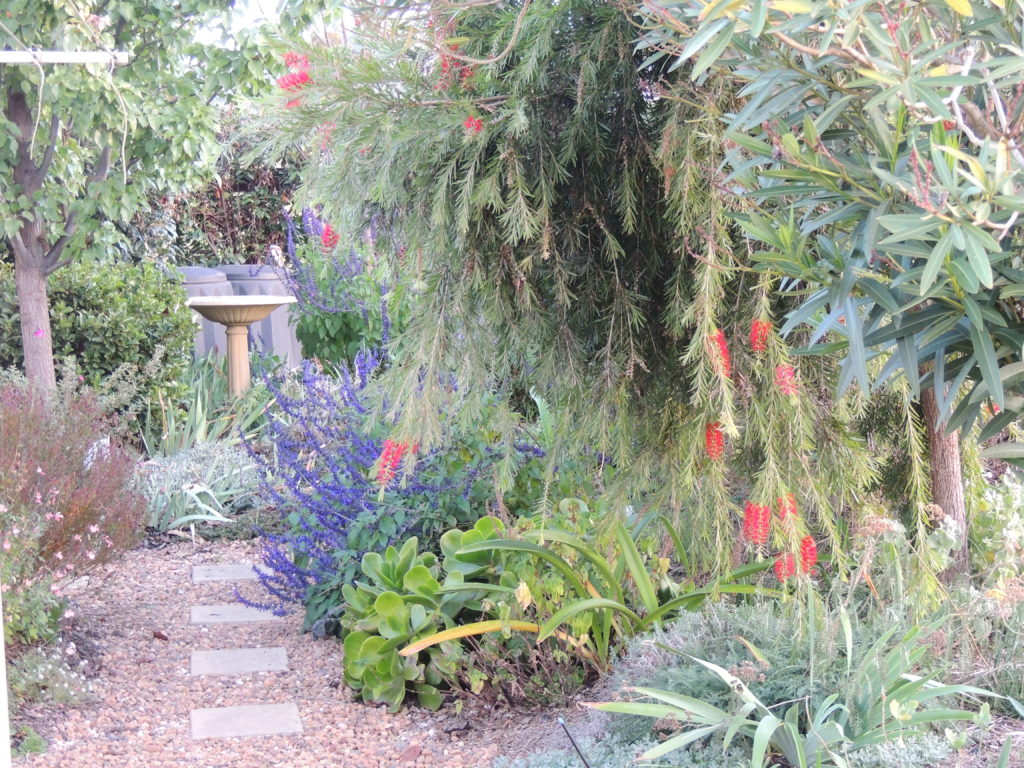 Three: Next we have my old friends the Zinnias. These are new ones this year: Zinnia 'Crackerjack'. An interesting combination of colours, especially the first which doesn't seem to know what colour it should favour.
Four: The last rays of the sun highlight the spent Zinnia flowers against a backdrop of Leptospermum and Tallow tree.
Five: A vibrant Crepe Myrtle contrasts with Salvia clevelandii and Pyrus nivalis.
Six: Hakea petiolaris is revelling in this weather, and so are the bees. Squadrons of them are around this tree which is covered in flowers: a low, contented drone pervades the air. The tree's common name is Sea Urchin Hakea, and it isn't difficult to see why. Those leaves are leathery and tough, covered with a very fine powdery substance.
Those are my six for this week. Don't forget to visit other gardens via The propagator's blog.
Weather today: Sunny and calm. 5-23 degrees C. Happy gardening everyone.