When travelling on a touring holiday, it's a good idea to take note of those brown signposts that point to tourist attractions, and it's exactly what we did when driving through the Clare Valley area of South Australia recently. Having already passed a sign to the historic town of Mintaro before we realised what we'd missed, we were pleased to see another and quickly turned off the main road.
We had no idea what to expect, and so were delighted to arrive in this sweet, almost untouched-by-modern-times village. After parking the car, we wrapped up (it was a bit nippy) and wandered along the main street admiring Mintaro's old buildings, trees and gardens.
Mintaro, present population 188, dates from about 1849. It was once a staging post on the journey from Burra Mines to Port Wakefield.  At Burra, copper had been discovered, and it was carried by bullock teams to the port for shipment overseas.  Mintaro enjoyed prosperity until it was decided that the copper should be taken to port by a different route.  I wonder if the Ficus tree in the photo above dates from that time: it certainly seems big enough!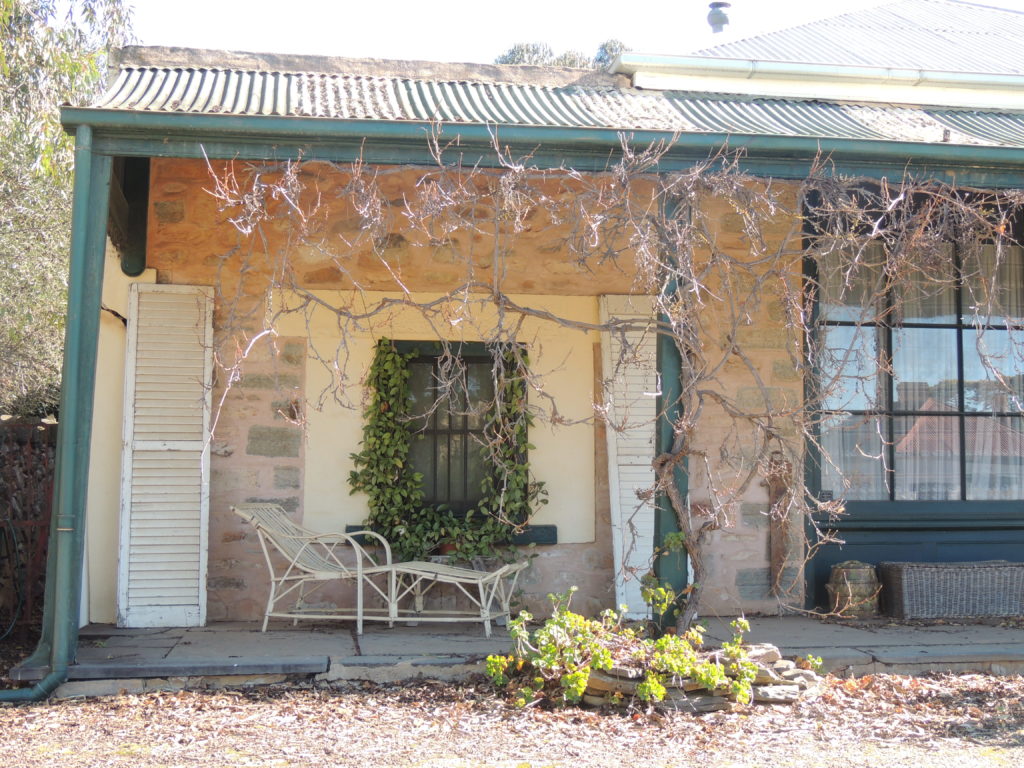 In later years, Mintaro became better known for its slate.  Mintaro Slate Quarry is thought to be the oldest continuously operated quarry in South Australia, possibly in the whole of Australia.  As well, the countryside around this area is famous for wineries and farming.  The rolling hills were luxuriantly green when we were there, the vineyards with their neatly tiered rows looked prosperous and little Mintaro was a charming break on our journey south.

The photos, by the way, were taken by Mr MG, who's a better photographer than I am. He takes arty shots.
We enjoyed a coffee and a chat at Reilley's Restaurant where there was a jolly group of locals who knew we were not from anywhere nearby.  'You're not pronouncing the name correctly,' said one man.  'It's Mint-air-o.'  Who would have thought?