It was a dull day in April when we visited the Royal Botanic Gardens in Melbourne, but our enthusiasm was not dampened by the louring clouds as we wandered around the 38 hectare site with its Autumn leaf-covered lawns, its lofty trees and waterways.
The RBG was founded in 1846 and is an idyllic oasis in the middle of Melbourne only a short walk from the skyscrapers which can occasionally be seen above the trees. Like most botanical gardens,  it's divided into areas such as the Australian Forest Walk, the Tropical Glasshouse, the Southern African collection and the Perennial Border to name only a few.
Because it's a big site, it isn't possible to see everything in one visit, but although we missed quite a lot, we were well satisfied with our morning's meanderings.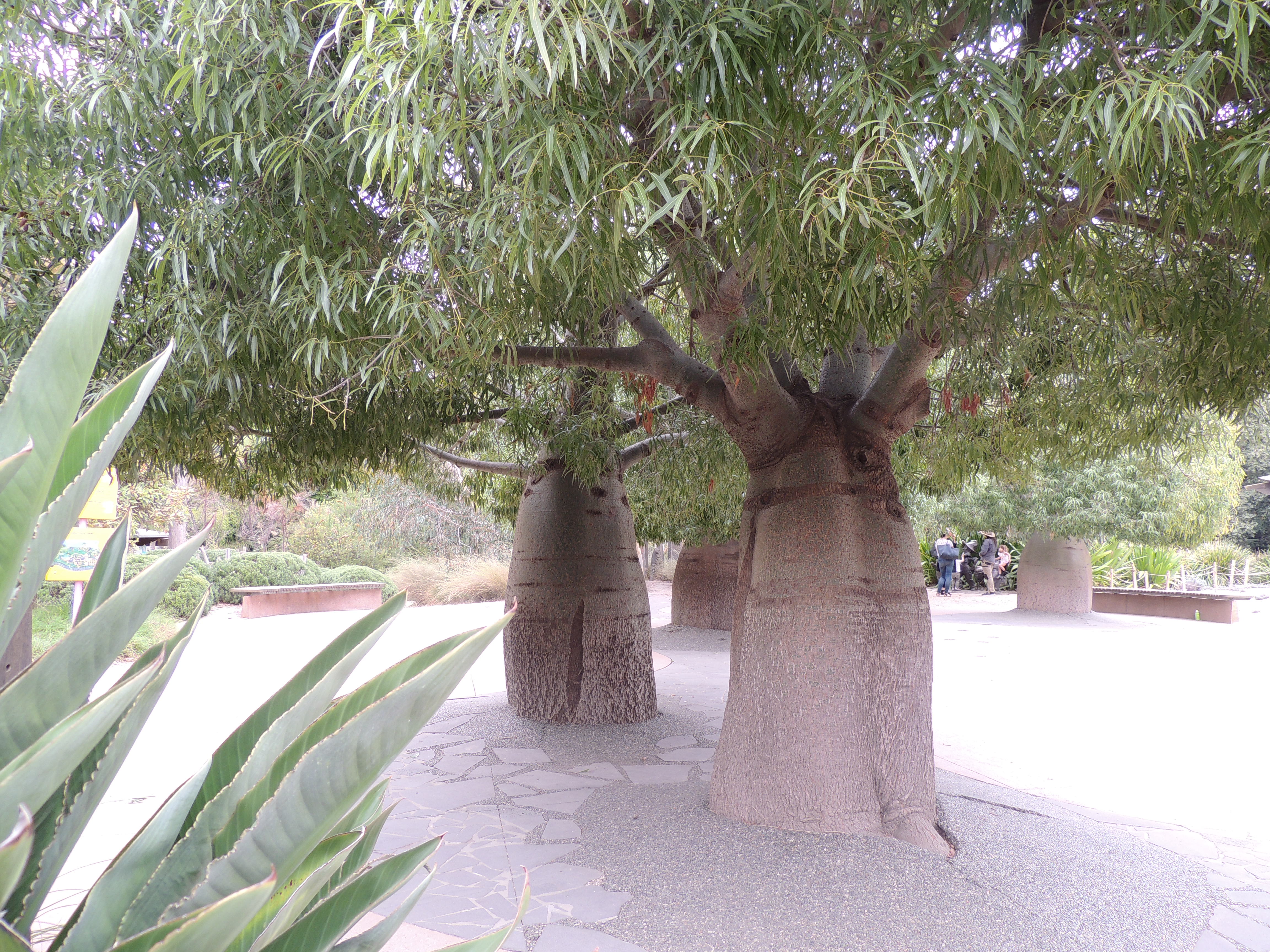 Banksias and chubby-trunked Boabs greeted us near the entrance to the gardens. I think these Boabs are youngish because I read that there's one in Western Australia that has a girth of 14.7 metres! It's thought to be 1 500 years old.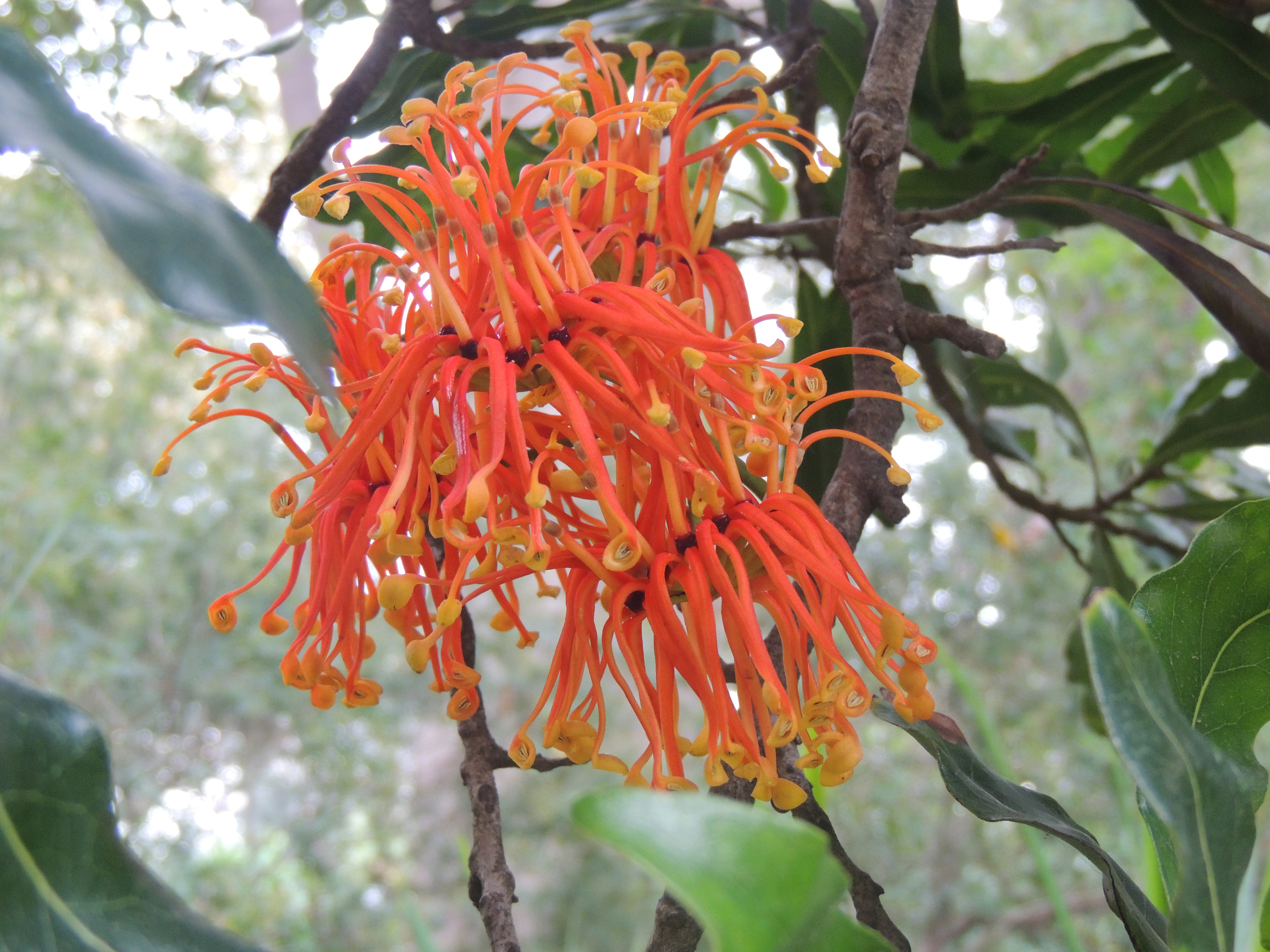 We first wandered along the Australian Forest Walk, photos above.  Here native trees majestically imposed themselves on the landscape: Corkwood, Hard Corkwood (which is apparently  different  from not-so-hard corkwood), Cabbage Tree Palms and Queensland Kauri jostled for space amongst the Eucalypts,  Corymbia, and Angophoras (which look like 'gum' trees with typical gum-type leaves), and they in turn sheltered the ferns, Dracaenas and Queensland Firewheel Trees.
Firewheel trees-'Stenocarpus sinatus'- have spectacular flowers that really are in the shape of a wheel, unfortunately not depicted very well in my photo on the right.
In another part of the gardens, known as the Oak Lawn people were occupied with enjoying the day even though the sky was grey and threatening. Schoolchildren played organised games or completed projects set by their teachers.
In the 'Camellia Collection'  blooms in many shades of pink could be seen.  Autumn is the best time to see Camellia Sasanquas flowering in Australia.
A Wattlebird sipped nectar from a Floss Silk tree, Black Swans, native to Australia, swam in the lake, and an Eastern Spinebill (so difficult to photograph) found his lunch in the Echeverias.  Can you just see him there on the right?  He has a very long slender beak.  I'm happy to say I have Spinebills in my own garden, although I haven't been able to photograph one yet.
A wander through the rainforest provided us with an idea of what it would be like to be in a real rainforest.  This area is kept damp with frequent waterings and there are tall sprayers placed frequently but unobtrusively throughout.  It's full of huge ficus trees with buttressed roots, epiphytes, ferns, and a wide variety of palms. A delightful stream runs through, wending its way down the slope, finding its way under roots and finally into one of the lakes on the lower level of the gardens.
Finally, with our feet aching and the sky threatening rain, we headed off back to the city, anticipating a delicious lunch at the highly recommended 'Chin Chin' restaurant.  I had to take one last photo which wasn't strictly in the gardens, but I couldn't resist this unusual combination of colours.
Do you have a favourite public garden that you like to visit?