Here we are! It's Saturday again, and I'm joining in with the Six on Saturday crowd to see what's happening in gardens near and far. If you also have a hankering to see what's going on in other gardens,  do visit The Propagator's blog where you can also join in if you wish. It's worth it. While we, in the Southern Hemisphere head towards the coldest time of the year, in the Northern Hemisphere gardens have burst forth into glorious bloom, and  SoS pages are full of wonderful flowers, some familiar and some not so.
Here are my six for this week.
One: Rescued from an orphans'  table somewhere recently, this Gaillardia 'Mesa Red' is growing well.  I'm not keen on the yellow ones, but I rather like this one with its bewhiskered centre and scarlet petals.
Two:  Seeds purchased from Lambley Gardens and Nursery: Cerinthe major purpurascens, Nigella 'Miss Jeckyll Alba, Nigella orientalis 'Transformer' and  Wallflower Sunset Series 'Apricot'.  These are intended to be space fillers in the garden.  In the small packet I have Exochorda macrantha 'The Bride'. I saw Exochorda on a blog earlier this year and not surprisingly decided I had to have one. I've not found any online anywhere, but managed to source some seeds. I'll pot them up soon and hopefully have some seedlings before too long.
Three: Here I have two cuttings of Grevillea 'Sooper Dooper' which has a terrible name, but is an excellent plant which flowers ALL year, and remains compact, making it especially suitable for small gardens.  In the red, there is a cutting which I think is going to fail, but in the yellow is one that has new shoots on it already.  Below is a photo of the flowers on the one that is already established in the front garden.
Four: Some purchases made on my trip home from Sydney earlier this week: a pretty Erica colorans 'White Delight' (flowers below) , a Pittosporum  to fill a hole in a hedge and two dwarf Rhaphiolepis to put in the spot vacated by the bay trees which were moved a week or so ago.  New larger  pots have been purchased and I hope the Rhaphiolepis don't outgrow them too quickly.  They were chosen for their toughness as the position they're going to be in is challenging indeed.
The Five: I'm looking for help with this one.  I picked this cutting from someone's front garden, but I don't know what it is.  It had a blue flower and I'm wondering if it's borage.  It has struck very easily and quickly. Any suggestions?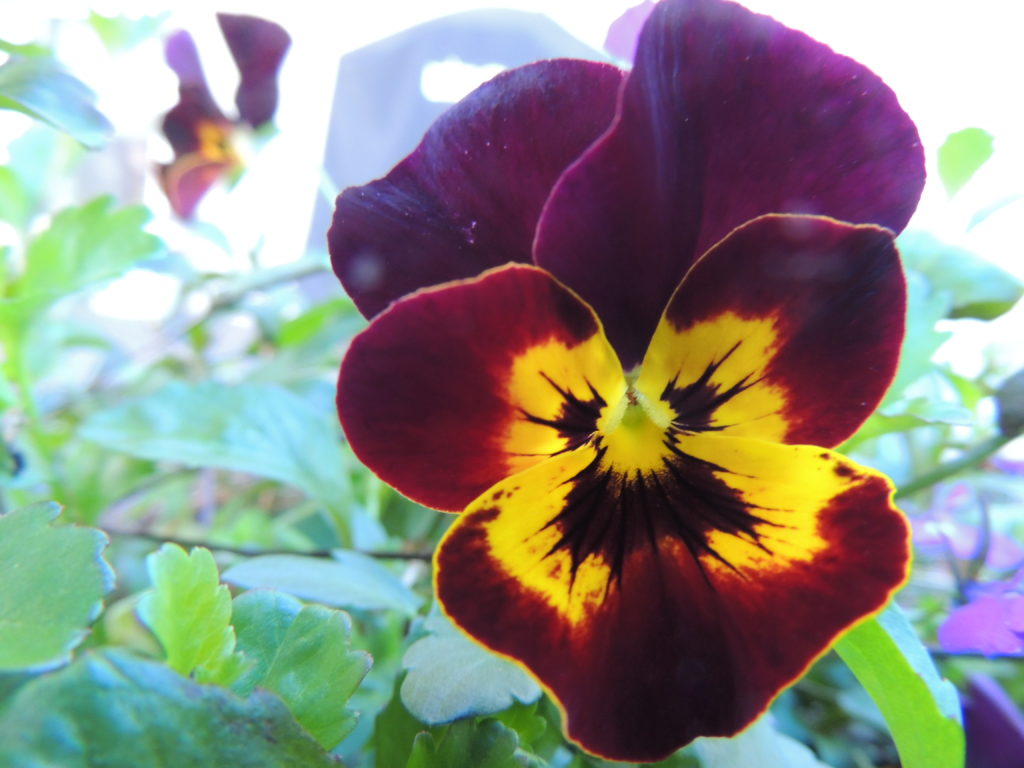 Six: Continuing the unsung hero/heroine series, this little pansy has self-seeded and is flowering happily in the cold and frost. Pansies grow well here in the winter, but as soon as hot weather arrives they throw in the towel. Fortunately they proliferate quite well and reappear when they are ready.
That's my six for this Saturday. Happy gardening everyone.
Weather today: -1 to 13 degrees C; windy, cloudy and cold.