We're in the throes of Winter now and the cold mornings seemed to arrive earlier than they usually do. I think perhaps this was due to a long dry period and lack of moisture in the atmosphere. Last Sunday  we had a low of -4.5, a white lawn and a birdbath with a thick layer of ice. After the frost, the days are glorious: clear skies full of sunshine and warm enough to be out in the garden in shirt sleeves. Later in the week we had a Rain Event which was most welcome. I have been busy cutting back my perennials for their Winter rest, working my way around the back garden.
Each Saturday, keen gardeners select six things from their garden to share with others from around the world. The Six on Saturday crowd is growing under the leadership of Mr P, and if you're interested in seeing fascinating plants and interesting ideas from all corners, do pop over to his blog here.
Here are my Six:
One: Just coming into bloom and bringing some brightness into the garden is Leptospermum scoparium 'Nanum Rubrum'. I think of Twiggy or a kewpie doll -if you're old enough to remember either of those- when I look at these flowers. Big round eyes and spiky eyelashes. Leptospermums are amongst my favourite natives.  They flower prolifically  for ages and at a time when much of the garden is hibernating, and bees love them.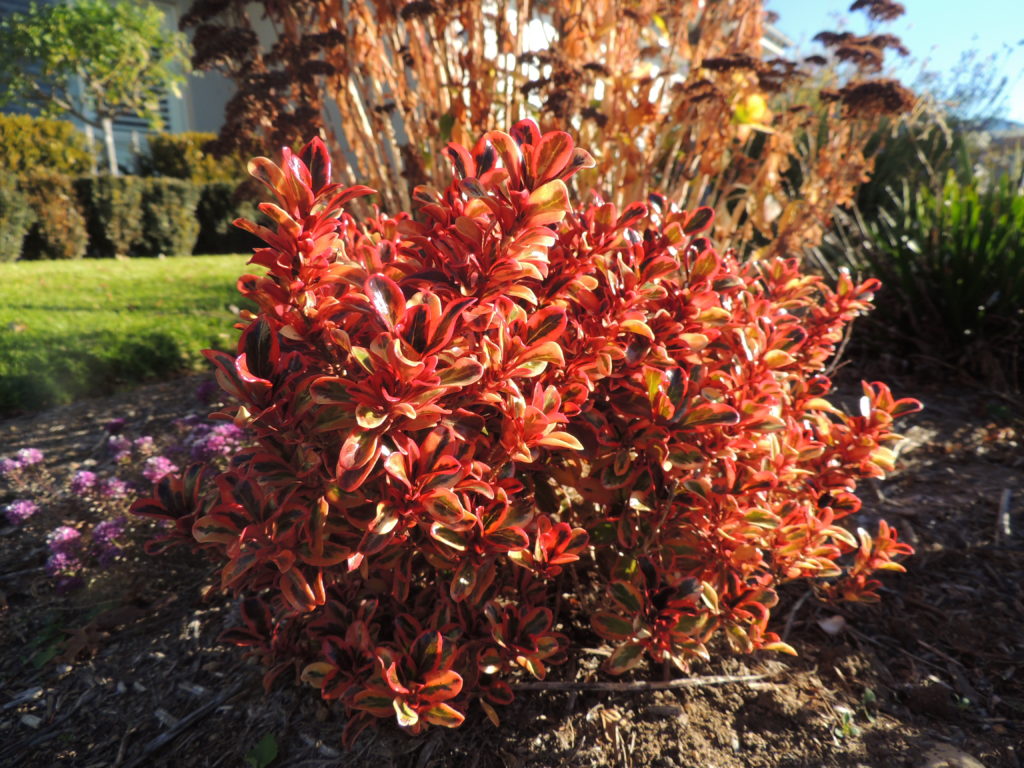 Two:  Coprosma repens 'Ignite' whose foliage is colourful all year round but even more so in Winter, is also creating a bright spot in the garden.  This one doesn't spread as much as some of the other Coprosmas which can behave quite thuggishly.  I like a plant I can control.
Three:  Osteospermum.  I thought there was too much pink and blue in the front garden, so I decided, Monet like,  to add a touch of yellow, a sparkling highlight, and chose this Osteospermum, whose name I have since lost.  Most plants are finished for now, but the light shines on,  shimmering steadfastly.
Four:  Anigozanthos, or Kangaroo Paw.  I don't have much luck with these, and after a discussion with another Sixer, Nat from depressionfreegarden, over in Western Australia, I've decided that my soil isn't sandy enough.  This is the only Kangaroo Paw that has lasted more than one season for me. More than anything, these two flowers remind me of a couple of haughty cockerels giving each other the cold shoulder. The one on the right has a much more impressive comb and is behaving quite snootily.
Five:  Gargantua has been out.  Snorting and roaring,  our resident monster has chomped up the cuttings and turned them into usable mulch which either goes straight on the garden or is composted.
Six:  Thanks to Kris, from Late to the Garden Party, I have recently learnt about fasciation.  I have noticed that these echeverias have developed strange mutations, sending out shoots that divide into small florets and I wonder if this is an example of fasciation.  What do you think? I've a lot of these plants forming a border and this strange phenomenon is only present in one small section.
And that's my six for this week.  Happy gardening!
Weather today: -1 to 14 degrees C, fog then sunny.