This week I'm departing from the topic of gardening because I've just had a wonderful weekend during which I had the privilege of singing, along with 599 other people, in the Sydney Opera House.
Each year, for the last thirteen years, Chorus Oz has provided enthusiastic choristers with the opportunity to take part in a massed choral performance of an oratorio. This year, Handel's 'Saul' was performed.
In case readers get the wrong idea, no particular expertise is necessary, apart from being able to sing in tune, and being prepared to pay a fee. There is no audition.  Prospective choristers are sent a score and a CD with the the voice part (in my case soprano) on it. The rest is up to the participant: practise the part at home until you know it well, and then present yourself in Sydney on the long weekend in June, prepared to take part in a workshop, a rehearsal and a performance in the Sydney Opera House! It's not a small undertaking really if like me, your music reading skills are fairly rudimentary. There's certainly a challenge and also a great sense of achievement when you realise you've mastered those trills and high notes and learnt the eighteen choruses.
On Saturday, expectant choristers met together at the rehearsal venue for a full day workshop with our musical director, Brett Weymark. In he bounded, leaping up on to the rostrum, flinging his arms in the air and carolling, 'Hello-o-o!", his fingers fluttering like five-winged dragonflies. A one man song, dance and comedy band who soon had us all in his palm like ants to a sugar cube. We found ourselves doing faintly ridiculous warm-ups like pretending to chew steak while singing scales. Try it! The day flew by as we sang our hearts out, laughed and were entertained by this multi-talented person. Oh yes, and we worked very hard too.
The whole of Sunday was spent at the Opera House: just the choir in the morning, polishing and re-polishing, getting the correct intonation, diction and volume, and practising our sits and stands. No one wants the choir leaping up to sing at the wrong moment! In the afternoon the orchestra and the soloists arrived, and we rehearsed with them. It was an amazing achievement: none of these groups had rehearsed together before this day, and it all came together almost without a hitch.
Finally, assembled before an audience in the huge, vaulted Concert Hall, there we all were: a 600 strong choir, soloists and an orchestra complete with harpsichord and carillon. It was an electrifying performance and thrilling to be part of a huge musical enterprise as we swayed and sang, and even marched on the spot and sang. Swaying and marching don't usually happen in an oratorio, and I'm sure our actions added spectacle to music that is already full of drama.
I didn't have much of a voice left at the end of it all, but I was uplifted and inspired by the experience and am already looking forward to next year's performance of Beethoven.
Taking photos during a performance is quite rightly, not allowed at the Opera House, and most of the photos I took with my phone during rehearsal were blurry. I must have been too excited to hold my phone still. The photo above was taken during our rehearsal with the orchestra.   The photo below, however, was taken just before the start, by my daughter who, with my son, attended the performance.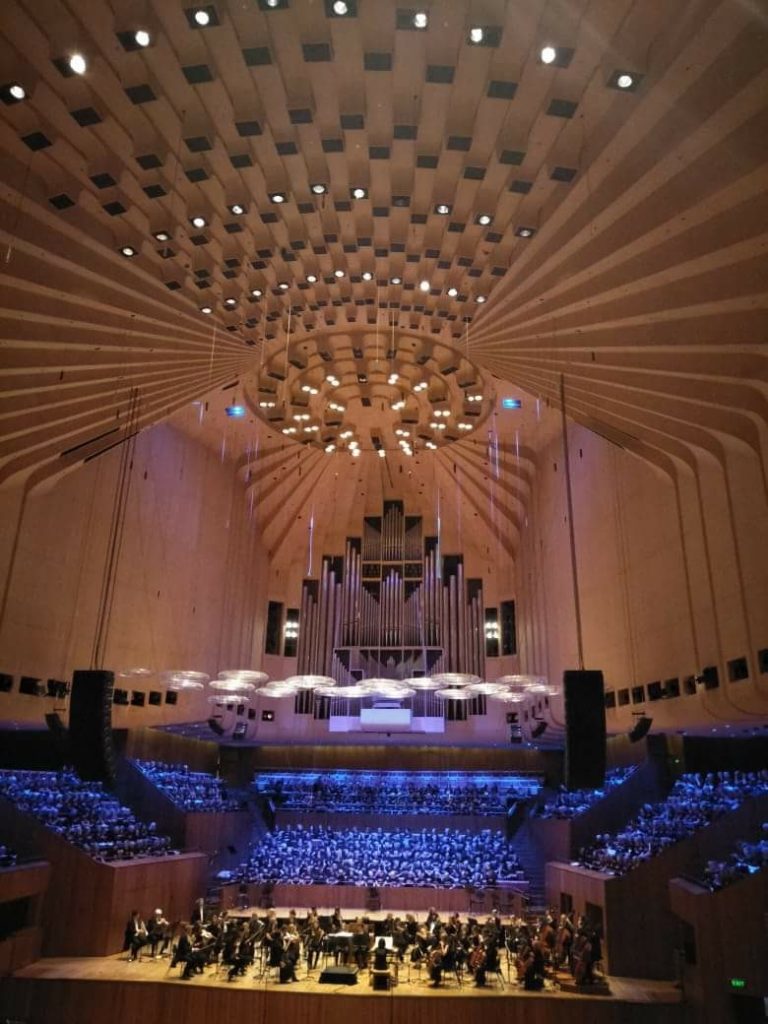 Did I manage to fit in a trip to a nursery on my trip to and from Sydney I hear you ask?  Of course!  Two, in fact.